Some great tips, tricks and trends to to help with your wedding plans
Having been immersed in the wedding industry for several years, I've worked with some of the best suppliers, meaning I've picked up some great tips to help with your wedding preparations. I offer brides and grooms a plethora of advice on all areas of planning and it's always happily received. Grab a cuppa and check out a few of these wedding advice pages below. Happy planning!
Investing wisely in your wedding photography today guarantees priceless memories tomorrow! Check out my tips for finding a photographer who is right for you.
As one of the biggest days of your life, your wedding will also be one of the busiest. Don't miss a beat with this guide to working out timings, for a smooth running day.
With the evolution of wedding traditions comes an increase in couples choosing to write their own wedding vows. But with this comes great responsibility and pressure to get it right. So where do you start? Find out here!
Engagement sessions – what to wear
When a couple books an engagement session with me, the question I most commonly get asked is: "What will I wear?" So with this in mind, I've put together some ideas on what to wear to an engagement photo session.
Springs hottest wedding trends
With the arrival of spring, it is officially wedding season and with that comes a whole host of new trends! Can't wait to find out what this season has in store for the wonderful world of weddings? No problem! We've rounded up spring's hottest wedding trends, which are demanding attention…
9 tips to nail your outdoor wedding
We know the temperamental British climate doesn't always allow for outdoor celebrations but if you are planning a wedding between April & September, there's a chance you'll get a gorgeous day for your wedding celebrations. Considering an outdoor wedding? Check out these tips to get it right!
Tips for planning a small wedding
It's no surprise that weddings come in all shapes and sizes and whilst I love them all, there's something utterly romantic and personal about a small affair. With more and more couples making their wedding more initimate and adopting a low key approach, I share my top tips for planning a small wedding.
Add a personal touch to your wedding day
With couples looking to ensure their wedding day is unforgettable, one way to add oodles of personality is with some unique finishing touches. So how do you make your day that little bit more personal? Here, I will share 10 easy ways to add a personal touch to you wedding day.
10 things to do the day before your wedding
One more day to wedded bliss… The 24 hours leading up to your wedding day can be a bit of a whirlwind, and not knowing exactly what you should be doing can cause a frenzy. Avoid a bridal meltdown and ensure you've covered all angles of prep with these 10 things to do the day before your wedding.
Wedding planning on your lunch hour
Wedding planning is a timely business and with many couples working their usual 9-5 jobs, finding the hours to plan the biggest day of your life can seem like mission impossible. However, it's amazing what can be achieved on your lunch hour. Handy top tips for maximising these precious 60 minutes.
Bridesmaid trends to fall for
Long gone are the days of dowdy dresses that your friends will only want to wear once! Designers have taken the myth that bridesmaid dresses should be boring and turned it on its head. Here we share a few of our favourite bridesmaid trends to fall for this autumn.
Rules of wedding dress shopping
For many ladies, the most exciting part of wedding planning is the quest to find that dream dress. Considering it's the most expensive item of clothing you're likely to own, no doubt you'll want to get it just right. Here, we share the rules of wedding dress shopping to ensure your search is a breeze!
Christmas wedding tips guests will love
There's something truly romantic about a wedding at Christmas. Luxurious fabrics, subdued lighting and sensational scents all effortlessly combine to ensure it's the most wonderful time of the year. So if you're considering the festive season for your wedding, check out our Christmas wedding tips your guests will love.
Top wedding fair tips not to be missed
Celebrating a Christmas engagement? Congratulations! No doubt you're enjoying your engagement bubble and are eager to starting planning, which begs the question – where do I begin? Most couples start with a visit to a wedding fair so here's some great tips not to miss.
Top tips for planning a wedding in less than 6 months
There's something so romantic about a short engagement! While typically the average couple spends 12 to 18 months planning their wedding day, there are those who prefer a whirlwind engagement. And planning a wedding in less than 6 months is probably much easier than you might think.
Things wedding guests remember the most
When it comes to wedding planning, no doubt every single detail will feel of the upmost of importance, but the truth is, that your wedding guests are unlikely to recall your choice of flowers, or what colour your place cards were. So what actually are the things wedding guests remember the most?
5 worst wedding planning tasks
Congratulations on your engagement! No doubt you're keen to delve deep into the wonderful world of wedding planning. But before you start scrapbooking and Pinterest pinning, it's time to talk priorities! While planning your wedding is a wonderful experience, there are a few important tasks to get out of the way first!
Wedding day costs and how to cut them
In your engagement bubble, it can be easy to forget that you actually have a wedding to plan. Before you get #inspo pinning on Pinterest, it's time to talk money. So here, we discuss the average wedding day costs as well as our top tips on driving down price if you're on a budget.
Wedding accessories guide
Now that you've found the dress of your dreams, you'll want to add the perfect accessories to perfectly complete your look. Not sure where to start? Here, we share our wedding accessories guide to ensure finding those all-important finishing touches is a breeze.
The dos and don'ts of social media at weddings
It's no surprise that wedding traditions have changed in recent years. With the rise of the digital age, comes a need to get savvy when it comes to social media at weddings. To ensure you're clued in, check out our dos and don'ts to help you get the most out of social media before, during and after your wedding.
Top tips for indecisive brides
When you think about it, planning a wedding is really a big list of decisions to be made. While some brides know exactly what they want, others have a trickier time and indecision creeps in. If you fall into the 'indecisive brides' category, this little guide is sure to help.
Autumn wedding trends you're guaranteed to fall in love with
Although summer is a popular time of the year for weddings, there's something undeniably romantic about autumn. An abundance of colour and low lighting combine to make the season truly magical.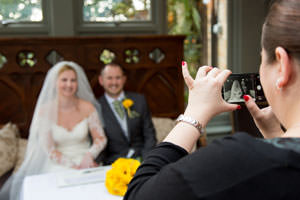 Photography tips for snap happy wedding guests
Be snap happy wedding guests without interfering with the professional photos thanks to these top tips for perfect wedding guest photography.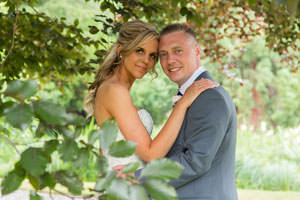 Top tips to help you look your best in wedding photos
With all eyes (not to mention, cameras) on you, there's pressure to ensure head-to-toe perfection. And with wedding photos marking the occasion and admired for years to come, no doubt you'll want to effortlessly pull them off.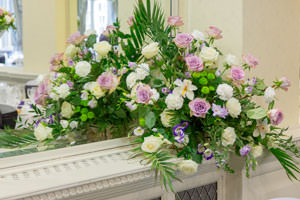 2018's wedding trends to fall for
Think all weddings are the same? Think again! With the arrival of a new year, comes a whole new host of wedding trends and what a year 2018 is set to be. Check out the trends topping the charts, which serve as perfect #weddinginspo for your big day.